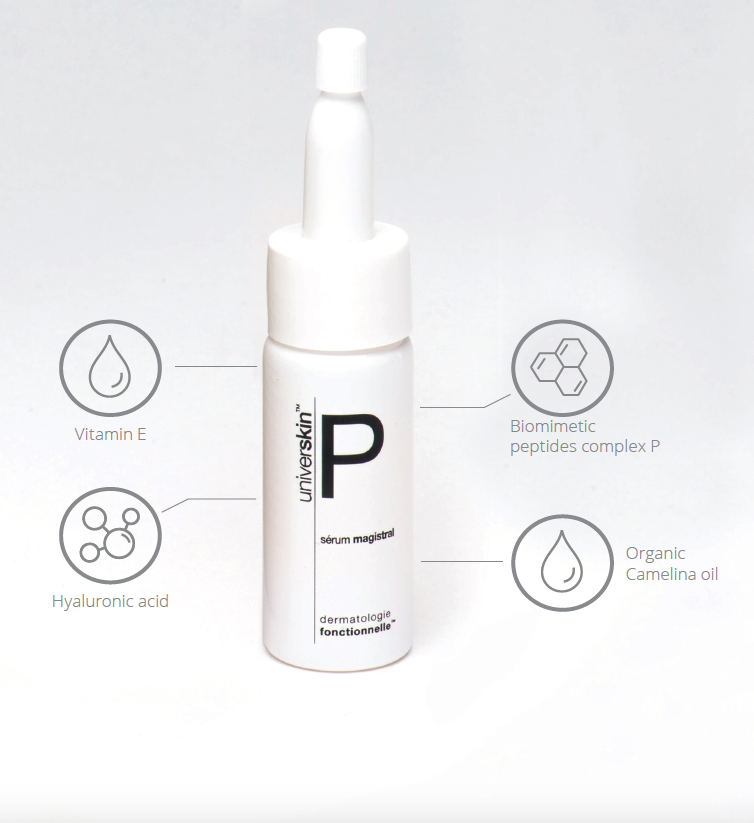 UNIVERSKIN™ SERUM P
Advanced skin repair serum
Universkin Serum P is a multi-purpose soothing serum, an optimized and patented combination, which helps regenerate and repair the skin. A smart formula, with thin and light composition, consisting of high quality ingredients in perfect harmony with the skin:
Camellia oil optimized to allow the skin * to produce natural anti-inflammatory ingredients Omega-3.
A complex of biomimetic P peptides developed by Universkin and comprising a unique combination of 4 epitides, which are the biological messengers for the natural balance of the skin *.
Hyaluronic acid is optimized to maintain the proper functioning of the Extracellular Space (ECM).
Universkin Serum P by itself is the ideal cosmetic to soothe and regenerate your skin. The base is a high-tech carrier, which incorporates purely active ingredients in concentrations, as decided by your doctor based on the regulatory framework.
Contains: Omega-3 **, Vitamin E from Camellia oil, Hyaluronic acid, Acetyl tripeptide-1, Acetyl hexapeptide-1, Acetyl tetrapeptide-2 & Trifluoroacetyl tripeptide-2.
Apply in circular motions 4-6 drops of the serum, daily on a clean face before your cream, morning and / or evening following instructions from your doctor.
* surface layers of the skin
** Omega-3 bio-transformed in situ from Camellia oil